WHICH ANDROID TABLET?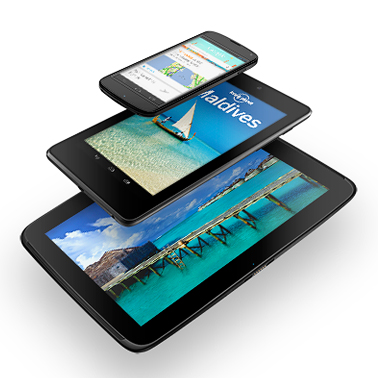 Best Android Tablets to Buy
Currently the market is filled with many tablets due to which it becomes difficult to choose from; therefore we are providing you with a list to make your selection better.
Nexus 7: this handy, wonder gadget comes with 7-inches display and is currently most demanding Android tablet for Christmas. Besides a trustable operating system it has some other impressive features too. It come with a nice 1920 x 1200 screen resolution, quad-core Qualcomm Snapdragon S4 Pro chipset clocked at 1.5GHz, 16-32GB of internal storage, 5 megapixel rear camera, 2GB of RAM, 2 megapixel front camera, dual-band Wi-Fi N, Bluetooth 4.0, NFC and much more.
ASUS MeMOPad: another Android tablet that you can think to have on this Christmas is ASUS MeMOPad. This is a cost friendly HD 7-Inch 16 GB Tablet and comes with great features. Most promising features of this device include Quad Core 1.2 GHz processor, a 16GB hard drive and 1GB RAM. Besides this you can use it for hours because of its heavy duty battery. Its weight is about 0.6lbs with dual cameras and uses ASUS SonicMaster Technology.
Kindle Fire HDX: like previous Christmas this year again Amazon has introduced an incredible Android tablet. This addition has brought Amazon on another level with increase in its series. It comes in two different display sizes, 7-inch and 8.9-inch. Features that make it different from other available gadgets include quad-core Snapdragon 800 processor, 2GB RAM, 11 hours of battery life, 2560 x 1600 resolution. Another plus point is reasonable price that you have to pay for a quality product.
Sony Xperia Z: after nailing in Smartphone industry now Sony has moved to another line of gadgets which is tablets. This premium brand is giving way to waterproof gadgets and this Android based tablet is new addition in list of waterproof gadgets. Other impressive features include Qualcomm Snapdragon S4 1.5 GHz processor; 2GB RAM with 16GB and 32GB hard disk sizes. This is among some thinnest tablets available in the market with widest color spectrum.
Samsung Galaxy Note 10.1: Samsung is well renowned name in technology industry today therefore everyone can expect more from gadgets coming with this name. This new Android tablet from Samsung comes with 2560×1600 display, 8-core Octa chipset and 3GB of RAM, 8-megapixel rear camera, a 2-mp front camera. Along with this tablet you can connect Galaxy Gear and exchange data between these two devices easily. This Android based tablet is capable of connecting with standard Wi-Fi and 4G.
LG G Pad 8.3:  if you are not one who wants to compromise on size then this is the best tablet to have on Christmas. Currently this is the only 8-inch Android tablet available with 1920 x 1200 pixels resolution. LG is now using Android 4.2.2 operating system in this tablet with Snapdragon 600 processor, 2GB of RAM, a 5 megapixel camera and 16GB of internal storage. Design of this tablet is also impressive with white cover, a power button and volume rocker.  
Acer Iconia A1-810-L416: another budget effective tablet to get on this Christmas is offered by Acer. This solid pack of wonders includes MTK MT8125 1.2 GHz processor, a 16GB hard drive and 1GB RAM. Other features include low weight which is less than 1lb with 7.6 inches display and powerful battery, a front facing 0.3MP camera and a rear facing 5MP camera.
One response to "Skillion 2 pre-order deposit"