BCS MegaShield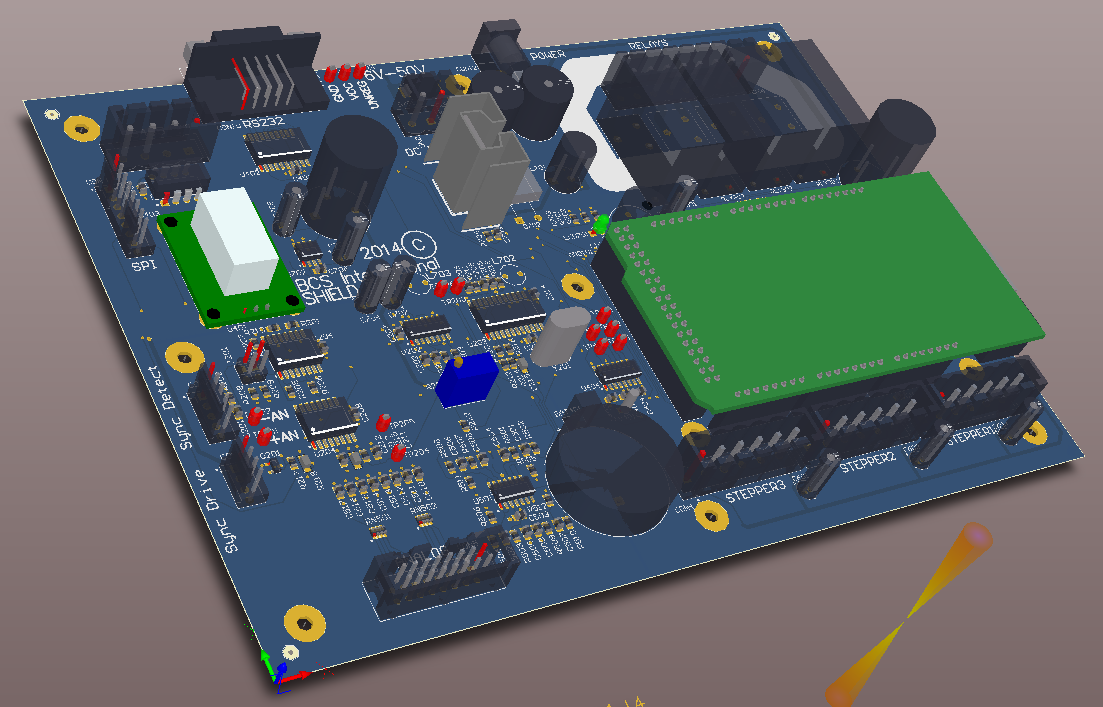 The BCS MegaShield has been developed by BCS and we want to make it available for everyone to use in their applications. The BCS MegaShield is going to be available as kit, and can be purchased in 2 packages, the BCS MegaShield and the BCS MegaShield Pro.
The BCS MegaShield is the board with software to get you started, and includes all the ON-BOARD Features listed below. The BCS MegaShield Pro includes all the features of the BCS MegaShield and is housed
THE PERKS (indicative pricing a volumes only )
BCS Megashield (PCB board, Arduino, power supply, not included)
Very Early Bird Special = 1 BCS MegaShield $120 limit 50
Early Bird Special = 1 BCS MegaShield $125 limit 100
Campaign Special = 1 BCS MegaShield $129 limit 250
RRP = 1 BCS MegaShield $139 no limit
BCS Megashield Pro (PCB board, power supply, chassis, connectors and cables)
Very Early Bird Special = 1 BCS MegaShield Pro $790 limit 22
Early Bird Special = 1 BCS MegaShield Pro $890 limit 56
Campaign Special = 1 BCS MegaShield Pro $950 limit 110
RRP = 1 BCS MegaShield $1150 Pro no limit
THE VIDEO
Describes the problem – how to automate real hardware in the lab, home, office or factory
The solution – the BCS MegaShield is ready to go hardware and kit level software
The applications – where it can be used to great effect, controlling a remote device the home a/c
What the BCS MegaShield is – the features
What we need the campaign for – developing the kits software
Who is BCS and the BCS credentials
The plan – how long it will take to complete the project an when people will get the first BCS MegaShields
ON BOARD FEATURES (BCS MegaShield) :
4 X 240 Volt fully isolated relays
3 X Stepper motor drivers
1 X A-D converter
1 X 20-way I/O
1 X Temperature/Humidity sensor
1 X Real Time Clock
1 X Clock Back-up battery
1 X Ethernet port
1 X USB port
1 X 5 Volt power supply
ON BOARD FEATURES (BCS MegaShield Pro)
1 X BCS MegaShield and software
1 X Power Supply
4 X 240 Volt Outlets
1 X hardened IP rated chassis
1 X 25 way DB Connector
APPLICATIONS
The BCS MegaShield has applications for home automation, laboratory testing, test and measurement.
IN-USE
The BCS MegaShield is already installed in a production line for one of Australia's largest lighting manufacturers where it is used for production testing. Also, the BCS MegaShield has been designed into a laboratory testing tool a Nephelometer.
WE WILL
If we reach out target we will develop the software needed to make the BCS MegaShield a user friendly kit with out-of the box functionality that you can customize for you applications.
OUR PLAN
BCS_MegaShield_TimeLine
IF WE EXCEED OUR TARGET
We will develop more software tools to further enhance the BCS Shield.
WHO WE ARE
"BCS Innovations specialises in the development and service of various electronic and software products, with expertise spanning industrial electronics, automotive systems, telecommunications, security, instrumentation and medical devices. BCS was founded in 1996 by our CEO, David Bull, and has grown steadily since.
Our involvement can range from rapid proof-of-principle prototypes, to demonstrator prototypes, to full product development, to maintenance and support of existing products – and we gladly perform minor (or major) adjustments to existing designs as required. We promote a flexible work arrangement to suit our client's capabilities and requirements – for example, we can implement a design to a client's specification, or just perform the hardware design and leave the firmware or software to the client's internal team. The nature of the work breakdown is customised for each project and each client."
What's Important to Us
"BCS is in the service business. Your priority is our priority. In some cases this may be the technical outcome, in others it may be the development budget, or unit cost. Timeframe is a common objective, as many companies (established, sophisticated companies and VC funded start-ups in particular) have specific market windows driven by their industry. The relative priority of these factors are the most influential part of planning and running a project, and will be addressed and updated continually.
Our goal is to make the project work for you, building an ongoing relationship and assisting with engineering development needs into the future. The vast majority of our clients are long-term or referrals, with products that we have helped build and bring to market. Your success is our business."
ISO9001 Certification
BCS has met the requirements for AS/NZS ISO9001:2000 for Quality Management Systems with SAI Global Certification Services. This registration (QEC23112) covers the Quality Management System for consulting, design, project management, prototype manufacture and rework services for customised electronic devices related to industrial, medical, defence and commercial applications. We perform regular internal and external audits, and are always fully conformant.
Testimony
"Since transitioning to BCS, ImpediMed's clarity around the project timeline has increased. ImpediMed is extremely confident with its decision to switch to BCS for the completion of the project. In addition to the solid business structure that BCS has developed, ImpediMed's decision to switch to them was even more apparent due to BCS's continued focus on commercialisation of both their internal innovations and their partners' innovations. That winning combination of putting as much focus on ""completion"" as they do ""concept"" fits in well with the goals of ImpediMed. We strongly believe that BCS will help us to achieve these goals within the timeline we have set out."
– Tim Cruickshank (ImpediMed Group Finance Manager)"
Similar Projects
BCS has experience in various optical and thermal systems, some of which are listed below:
"Cochlear's Coil & Cable Tester was designed by BCS and is used as an aid to clinicians in the field.
More than a simple test device, the C&CT uses RF energy to characterise and classify the numerous implant telemetry coils and cables according to Cochlear's exacting inbound test specifications."
"Precision Controller, developed for Goyen (a division of Tyco)
The system is an industrial controller which pulses compressed air valves for on-line cleaning of large air filtration systems."
"The system can have up to 19 slave controllers connected via an RS485 ModBus link. Each slave controller can drive up to 10 solenoids, and reports back to the controller on the supply voltage during firing and the current drawn. The system can also sit as a slave on an RS485 ModBus SCADA network to interface with Citect Connect or other software.
BCS performed the electronic design, prototyping and testing of all 8 PCBs, wrote all the firmware, including the user interface and control algorithms, obtained the international regulatory (EMC & Safety) approvals and transitioned the system to manufacture in Australia."
"Concept Prototype, developed for Intercept
A proof of concept prototype was developed for Intercept to help raise further development funds for Intercepts ASSOB listing process."
Team
BCS assembled for this project have more than a combined 100 man-years of experience developing various projects in the consumer, scientific, medical and industrial sectors. We propose the following team for this project:
David Bull – Principal Design Engineer and CEO
"David has almost 30 years experience developing products for various innovative companies in the; medical, scientific, industrial, telecommunications and consumer products spaces. He is a regular judge on the Australian International Design Awards panel and is Adjunct Associate professor at the Australian School of Advanced Medicine and also at the Department of Electronic Engineering at Macquarie University.He holds a Bachelor of Science (Electronic & Computer Engineering) and Master of Science of (Signal Processing – Research) both from Macquarie University." David will be overseeing the technical elements of this project and providing the various project management functions.
Steve Sommer – Hardware Engineer
Stephen has extensive skills in firmware development for embedded systems. He is adept at development in a number of software environments, including C, Pascal and assembler, for a range of target systems including PIC, TI MSP430 and PC-based embedded systems. He also has experience in Windows applications development.
Stephen will be a hardware and firmware engineer on the project, performing PCB layout, circuit design and firmware design.
James Bull – User Interface Design
James has had more than 7 years experience with the development of user-interfaces, various web-portals and multi-media applications. He holds various tertiary qualifications in the areas of IT infrastructure and user interface design. His passion is the development of scalable and usable open source IT solutions. Apart from these skills he has been managing BCS' workshop activities and is responsible for all procurement and quality control.
James will be focusing on the web portal user interface and electronic packaging elements of the project.
Julian Meyer – Mechanical / Mechatronics Engineer
Julian is adept in the design and rapid prototyping of various mechanical devices at BCS. He has good experience in the practicalities of 3D printing and CNC machining. Apart from his experience in the mechanical domain he also is experienced in the design of electronic systems.
Julian will be focusing on the mechanical design constraints associated with the device.
John Aitchen – Prototyping Technician
John has had a 30 year career in the development and servicing of electromedical devices. He has worked in everything thing from cancer diagnostics devices to radiation dosimeter and nuclear medicine. He has a thoughtful approach to the development of various electromedical devices.
John will be constructing the various prototype devices.
3 responses to "BCS MegaShield"