Raspberry PI versus the Raspberry PI B+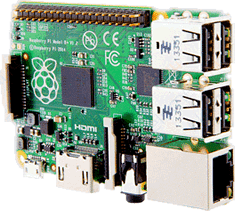 To look at they are similar but the first thing you will notice is that there are no components outside the footprint of the PCB, it truly is like a credit card sized computer.
There are 4 USB connectors great for plugging in keyboard, mouse, WIFI and a hard drive. The Standard SD is now replaced with a micro SD card and is within the PCB footprint.
There are 4 more pins in the main header, 2 reserved for IDE Prom chip (for future expansion) and it it claimed there is new low noise power supply. The 4 mounting points solidly fix the board in place. There are no connectors on the 2 sides, so no octopus of cables coming out all over the place. The same 700MHz Broadcom chip with the 512 MB of memory. The power consumption is reduced by 1/2 to 1 watt. The yellow composite jack is gone and replaced by a a single mini audio and video jack, this services both functions.
The software you'll need to use is Raspian June 2014 or later, but he same pins so you can use all the same steps as you did to set up the Raspberry as you used before.
In summary if your running out of computer power (or memory) on your Raspberry PI you can stay with the Raspberry PI. But if your running out of pins and IO then get the upgrade!